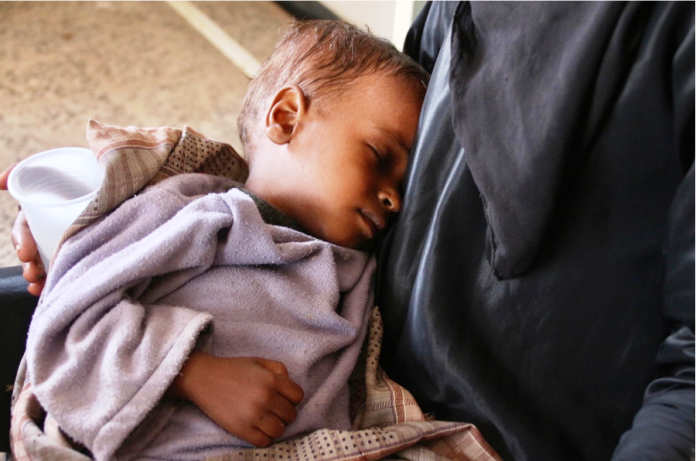 Ali* is three years old. He's severely acutely malnourished. Now, doctors suspect he has contracted cholera in his village and is likely to die within days or even hours if he does not receive treatment.
A savage war has been raging across Yemen for more than two years; much of the country's infrastructure has been destroyed; and almost 15 million people do not have access to basic healthcare. The country is now gripped by the worst cholera epidemic ever recorded. More than 2,000 people have died since late April from the highly contagious bacterial infection, which can kill within hours if left untreated. There have been nearly a million suspected cases of cholera in Yemen and on average 5,000 new cases are recorded a day.
When Taiba* arrives with her son, Ali, at Relief International's (RI's) cholera treatment facility, she is visibly exhausted. She carried him for one hour to get here because he had vomiting and diarrhea all night. Although the facility is open 24 hours to receive emergencies, it is too dangerous to travel at night without her husband, who had to leave to find work in another area.
Just three weeks ago, many people in Taiba's village caught malaria. Now it seems cholera has got into the water supply. Although she knows there is cholera in her village, she does not know what causes it or how to prevent it. She tells me her two young cousins died from cholera only days ago because they could not get to a hospital.
Millions of people in Yemen live in rural villages, just like Taiba, without access to electricity, running water, or transportation. The war has had a devastating toll on those most vulnerable people: half a million children face severe malnutrition as a result of diarrheal diseases and major food shortages and 7 million people do not know where their next meal will come from – making them even more susceptible to illnesses. In this context, when deadly diseases spread through the countryside, people simply cannot get help in time. Now gripped by the worst cholera epidemic in modern history, people are desperate for even the most basic medical care and resources.
Source: UNICEF