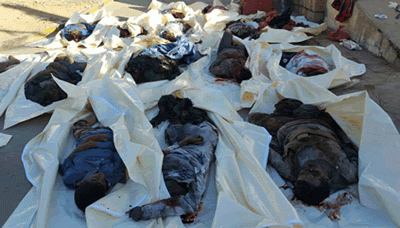 Saudi aggression warplanes  continued to target the markets, media institutions and property of citizens, resulting in the death and injury of 19 citizens during the past hours .
A military source told Saba news agency that four citizens were killed and five others were injured, including a journalist, as a result of the targeting of the building of the Yemeni satellite channel Al-Yemen  with two raids .
The source confirmed the death of five citizens and the destruction of three cars in the raids launched by the warplanes on a  market in Nehim directorate, Sana'a province, and targeted the same directorate with  22 other raids .
A civilian was killed and four others were wounded in a raid targeted  a market in Zubaid directorate in the province of Hodeidah. The warplanes also launched two raids  at citzen farm in the directorate of Tahita and five raids on the directorate of Hays .
The source pointed out that the hostile aircraft launched two raids on the city of Shibam Kokban in the province of al-Mahwit, and a raid on the directorate of Sarwah in the province of Marib and 11 raids on Harad and Midi directorates  in Hajjah province .
In Sa'ada governorate, the warplanes launched two raids on Razih district, one of which destroyed a house and launched two raids on Kataff district and a raid on ​​Manabeh Border directorate .
The source pointed out that a US drone aircraft launched a raid on the so-called al-Qaeda in al-Qarasheya in al-Byada  province .
The Saudi-American warplanes  launched seven raids on various positions in Al-Shorfa in Najran, and four raids on Assir