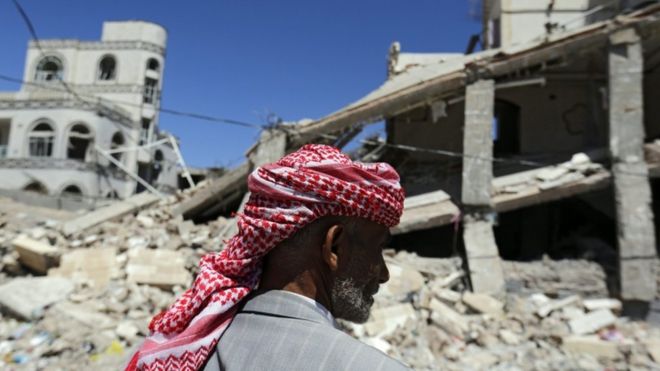 By: Wadeea Al-absi
The time has come to face the truth, to admit that war can't lead to peace and the conflict could be resolved only through negotiations; three years of devastating warfare proved so, nothing but killing, destruction and the world's worst humanitarian crisis. Three years of war and blockade by Saudi-led coalition resulted in wrecked state and homeless people, left three quarters of people in severe need of assistance, over 3 million out of their homes. UN agencies estimated that 17.8 million people in Yemen were food insecure and 8.4 million were at risk of famine, public services collapsed left more than 16 million Yemenis without access to safe water and sanitation, and 16.4 million without proper healthcare.
In such situation, all conflict parties mostly Saudi Arabia and its allies must hold responsibility and deal with this truth wisely. Yemen can't wait. Population who are paying the price of this fighting can't put up with these difficult conditions any longer.
Continued war and blockade imposed on Yemen by the coalition forces, bombing homes on heads of people and devastating civilian infrastructure mean that life in Yemen would become much worse, the UN's humanitarian chief has said that Yemen could be the worst humanitarian disaster in half a century.
Yemen, now more than ever, needs to return to the political solution and make a durable political settlement. There is no way to restore peace and stability and put an end to tragic humanitarian conditions only through political talks. The road to lasting peace will be long and difficult however, it remains the only path.
The international community must redouble its efforts to revive the political process and bring this crisis to a peaceful solution. Of course US should urgently take more effective steps to  put a stop to this war.
Also the US should immediately end its support for the coalition and use its leverage to push all parties towards peace way. There is no doubt, if US halted its assistance to the coalition, it would be difficult if not impossible for them to continue their war.
Finally, and in light of data of the ground it's important for coalition countries to realize that they can't obtain any military victory whatever they do. So far, perhaps time it's not too late, there is still a possibility to take urgent action to the right direction.