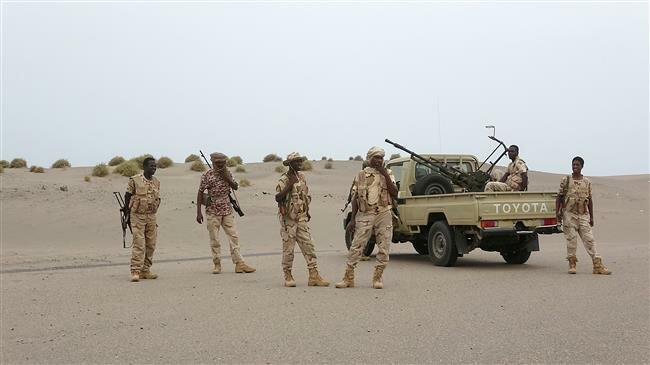 Al-Thawra Net
Sudan has dispatched scores of militiamen, most of them under the age of 18, to fight alongside Saudi-led military forces against Ansarullah fighters, a report says.
The Arabic-language Sout al-Hamish daily newspaper, citing an unnamed informed source, reported on Saturday that 600 Sudanese fighters had been flown late last month from Nyala Airport in southwestern Sudan to Yemen.
The source added that the Sudanese fighters had received training for only four months at the Dumaya camp in Nyala, the paratrooper training camp in the capital Khartoum as well as the al-Jili camp north of Khartoum before being sent to battle fronts in Yemen.
Even though Sudan's long-time President Omar al-Bashir was toppled in April after months of public protests, the military council that runs the country follows suit and continues to dispatch soldiers to fight at the front line of war in Yemen.
Almost all the Sudanese fighters appear to come from the battle-scarred and impoverished region of Darfur, where some 300,000 people were apparently killed and 1.2 million displaced during a dozen years of conflict over diminishing arable land and other scarce resources. Most of the militia belong to paramilitary Rapid Support Forces, a tribal militia previously known as the Janjaweed.
There are reports that Sudanese fighters are sent to battles in the Midi Desert of the northwestern Yemeni, province of Hajjah, the Khalid bin Walid camp in Ta'izz, or around Aden and Hodeidah. All of those interviewed by foreign media outlets confirm that they have fought in Yemen only for money, as they were paid in Saudi riyals. Payments to the mercenaries are said to be deposited directly into the Faisal Islamic Bank of Sudan, which is partly owned by Saudis.
Last November, the Ansarullah spokesman for Yemen's , Mohammed Abdulsalam, referred to the deaths of several Sudanese mercenaries in the strategic western Yemeni province of Hodeidah وsaying they were "victims of their government being on the payroll in a cruel and senseless war." Abdulsalam warned that Yemen would turn into a "graveyard" for invaders.
Source: Press TV