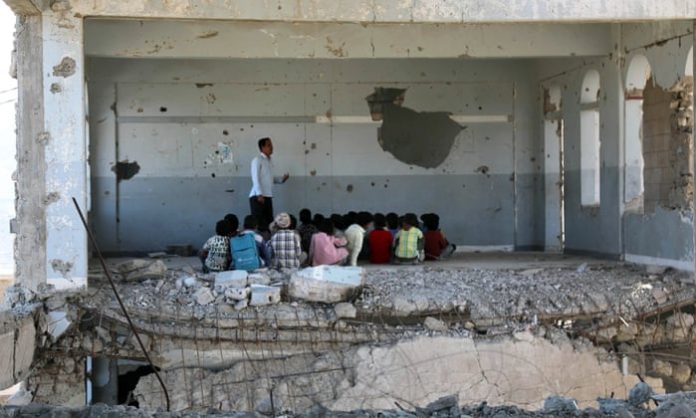 Al- Thawra Net
Students of general and secondary education, on Saturday, will head to their schools to start their new school year, the fifth year since the start of the brutal US-Saudi aggression that has not been deterred by religion or international conventions from bombing their schools and educational facilities.
The Ministry of Education prepares the campaign back to school and schools open their doors for a new academic year, declaring the victory of the educational front, thanks to the steadfastness of its teachers and educational staff. They show the highest meaning of sacrifice and altruism in their performance and duties. They go beyond the difficult circumstances created by US-Saudi aggression and show high level standers.
"By the grace of God and the steadfastness of all teachers whom we appreciate, we begin the fifth academic year in the light of the continuing brutal aggression, direct targeting of the educational process by destroying schools and educational facilities, without prejudice to all international laws and covenants that criminalize targeting education," Deputy Minister of Education Dr. Hamdan Al-Shami said
He stressed that the Ministry is exerting its efforts to find possible solutions to cut the salaries of teachers, provide a minimum of them and alleviate their suffering as a top priority, through coordination with local and international education partners and activate community participation as well as vigorous efforts to follow up the concerned authorities in the country to complete the project to support the education.
The Undersecretary of the education sector, Abdullah Al-Naimi, said that the total of schools and educational facilities destroyed and affected by the brutality of aggression and direct targeting, until February 2019, are 3,526 educational facilities. That affected about 2 million students and 89 thousand teachers. 402 educational facility were totally destroyed and 1,465 facilities were partially destroyed.
The Director General of the School Map, Radwan Al-Ezzi, pointed out the efforts of the projects and equipment sector in the follow-up of education partners and donors to rebuild destroyed schools, where 628 schools were distributed in 20 governorates last year, while 722 schools will be restored this year.
Source: Al- Masirah Net