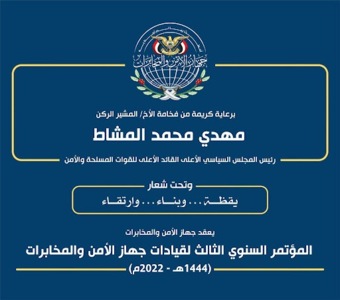 The Security and Intelligence Service has held the third annual conference for the year 1444/ 2022, under the slogan "vigilance, building, and advancement".
During the conference, the leadership of the Security and Intelligence Service sent a cable of thanks and gratitude to the leader of the revolution, Sayyed Abdumalik al-Houthi, and Field Marshal Mahdi al-Mashat, President of the Supreme Political Council.
The leadership of the conference praised the keenness of the revolutionary leadership and the Supreme Political Council to raise the level of security and intelligence performance to achieve further development and improve the performance of the Security and Intelligence Service in various fields.
It discussed aspects related to the continuation of the training process in the security and intelligence field and developments in the situation and future work plans to confront the enemy at all levels and towards all possibilities.
The leadership in the annual conference declared its full readiness to confront and thwart the plans of the enemies.