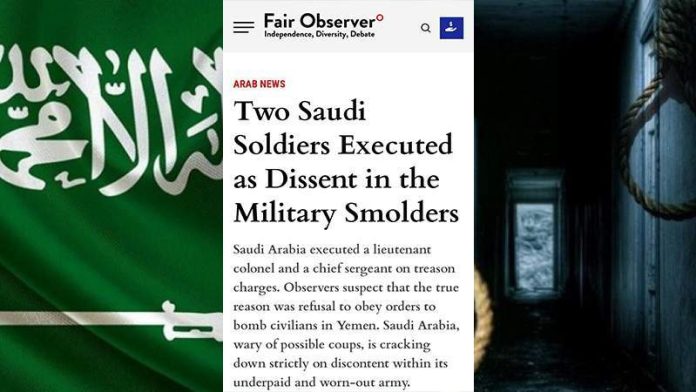 Saudi Arabia's execution of two pilots more than two weeks ago reflects fears of possible military coups amid "discontent within an exhausted and poorly paid army," Fair Observer reported.
On September 14, Saudi authorities announced that two army pilots, Lieutenant Colonel Pilot Majid bin Musa Awad al-Balawi and Chief Sergeant Yousef bin Reda Hassan, had been executed.
Saudi Arabia, wary of possible coups, is cracking down strictly on discontent within its underpaid and worn-out army.
"High treason" as a legal concept does not exist in Saudi Arabia anyway, because there is no such thing in Sharia law, which — despite massive reform in Islamic institutions in recent years — remains fundamental to the kingdom's judicial process. While the concept of treason does exist in Sharia, it usually refers to collaborating with the enemy in terms of espionage, but it is carefully qualified and does not automatically lead to execution.
Opposition sources say al-Balawi and Hassan were executed after refusing to bomb civilian targets in Yemen. They may also have been recorded criticizing Crown Prince Mohammed bin Salman (MbS).
According to Fair Observer, no Sharia court could justify sentencing someone to death for refusing to bomb civilians in Yemen, hence the unspecific treason charges. But as everyone in the kingdom understands, the courts are highly politicized and serve the wishes of the crown prince's regime.