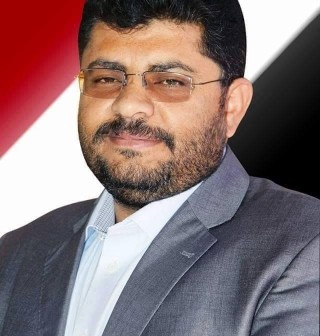 Althawra Net
Chairman of the High Revolutionary Committee (HRC) Mohammed Ali al-Houthi said that Yemeni people will not give up and with their stability and steadfastness will defeat the Saudi-led coalition.
in an interview with al-Thawra Newspaper, al-Houthi stressed that the continuing popular movement, demonstrations and marches against the blockade imposed by the Saudi aggression will accelerate the victory.
"The Yemenis have to announce that America is behind the aggression on Yemen. Yemeni people become more aware that America is behind their suffering through supporting the coalition countries aiming to protect the Zionist entity," al-Houthi added.
Al-Houthi called the supporters of aggression to come back to the right path and reviewing their positions and standing with the nation against the aggressor, invader and occupier.
He pointed out that the United Nations made wrong and misleading report about the situation in Yemen, " he we formed committees of the concerned authorities along with the Office of the United Nations representatives. In the meeting the UN office admitted their mistakes and agreed that there should be clarification by the Secretary-General of the United Nations."
Chairman of the High Revolutionary Committee said that the Saudi money bought the international organizations honesty, especially the United Nations, "the United Nations had pledged not to allow the siege of Yemeni ports, but they did nothing."
Al-Houthi said that the electoral register correction is national concern and an importance step, "every Yemeni has the right to be involved in the electoral process."
Al-Houthi called the international journalists to visit Yemen and transfer the facts and allow the world to know Saudi aggression's crimes in Yemen.