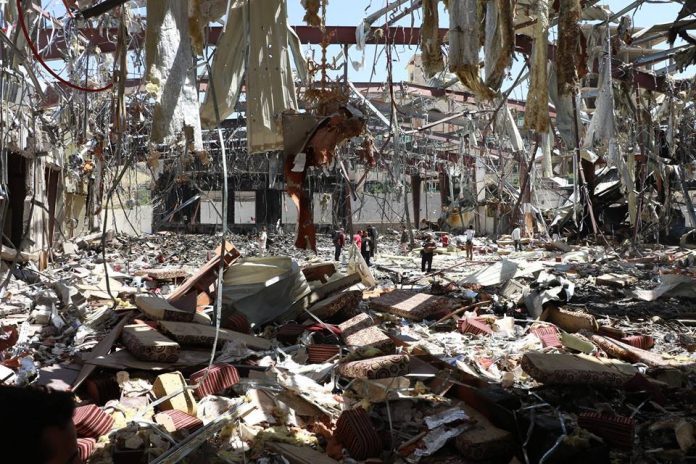 Al-Thawra Net
UN High Commissioner for Human Rights Zeid Ra'ad Al Hussein describing the attack on a funeral in Sana'a on Saturday as "outrageous".
UN High Commissioner for Human Rights on Monday reiterated his urgent call for an independent, international inquiry into alleged violations of international humanitarian law and international human rights law in the country.
"This deadly attack comes just weeks after the UN Human Rights Council, for the second year in a row, dismissed my call to take decisive action to create an international, independent investigative body to look into extremely serious alleged violations of international law, including possible war crimes, in Yemen,"
He added that the Human Rights Council's inability to take decisive action by setting up an international investigation is contributing to a climate of impunity, and violations continue to occur on a regular basis. Such outrageous attacks cannot be allowed to continue.
According to eyewitness testimony, hospital records and other information gathered by UN Human Rights staff, two airstrikes, about seven to eight minutes apart, hit the packed Al Kubra hall in Sana'a on Saturday afternoon.
Hundreds of people were gathered at the well-known community hall for the funeral of the father of a senior official. It is unclear how many people were present but the hall has a capacity of up to 1,000 people.
Witnesses described a hall packed with families, including children. A large number of political and military leaders affiliated with the Ansarullah   and former president Saleh were among those present, and many were killed.