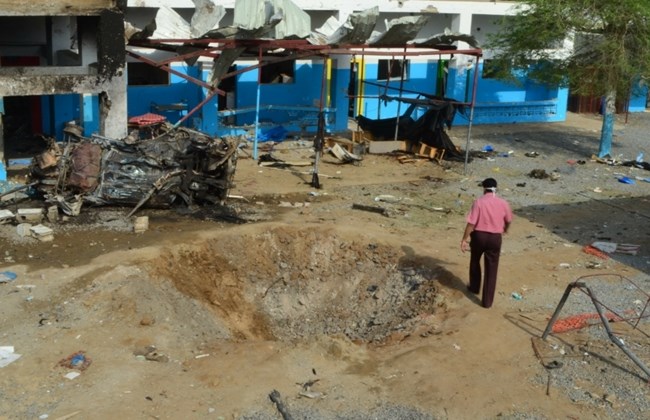 Al-Thawra Net
Saudi mercenaries threatens and closed  al-Thawra hospital, the biggest public hospital in Taiz.
In a report by Amnesty International organization published today ,the mercenaries led a campaign of harassment and intimidation against hospital staff and are endangering civilians by stationing fighters and military positions near medical facilities .
"During a visit to Ta'iz earlier this month, the organization's researchers interviewed 15 doctors, and other hospital staff, who described how members of anti-Houthi armed forces regularly harassed, detained or even threatened to kill them over the past six months.  " the report said
"There is compelling evidence to suggest that the Popular Resistance Forces, who are fighting the Yemeni army and popular committees members,  have waged a campaign of fear and intimidation against medical professionals in Ta'iz. By positioning fighters and military positions near medical facilities they have compromised the safety of hospitals and flouted their obligation to protect civilians under international law," said Philip Luther, Research and Advocacy Director for the Middle East and North Africa at Amnesty International.
"There can be no excuse for harassing medical staff or preventing doctors from carrying out their life-saving work. Attacks targeting health professionals or medical facilities are prohibited by international humanitarian law and can constitute war crimes."
Popular Resistance Forces, are allied with Yemeni President Abd Rabbu Mansour Hadi and the Saudi Arabia-led military coalition.
The report added that at least three cases hospitals were shut down because of threats against staff. In the latest incident, on Monday 21 November, one faction of Popular Resistance Forces raided and shut down al-Thawra hospital, the biggest public hospital in Ta'iz, apparently in retaliation for hospital staff providing emergency medical treatment to three injured from the Yemeni army and popular committees members.
According to eyewitnesses three armed men stormed an office at the hospital and threatened to kill medical staff if it was not shut down immediately. They also tried to drag the two surviving from Yemeni army and popular committees out of the hospital's intensive care and recovery units, but were prevented by medical staff. The third Yemeni army and popular committees fighter had died while receiving treatment. The hospital is now only partially functioning, providing only limited emergency services and dialysis, despite a renewal in heavy fighting since the first week of November.
"Hundreds of times [Yemeni army and popular committees] threatened us and interfered with the hospital's administration and our decision-making. When we stand up to them, they threaten us with being killed," said an administrative worker who was detained by gunmen along with another doctor, after trying to stop them from interfering in hospital affairs
Staff at al-Thawra hospital also said that the forces diverted electricity for their own personal use, disrupting power to crucial services.
In other instances fighters demanded medicines and supplies, and confiscated equipment from hospitals.
The report added that the mercenaries are setting up military positions near the hospital which endangering the hospital .
Staff at al-Thawra hospital told Amnesty International that fighters set up defensive positions, including by parking tanks around the hospital compound ignoring pleas by staff and local authorities not to do so. This has put hospital buildings, staff and patients at serious risk amid retaliatory fire from forces.
Al-Thawra's director said the hospital guards were unable to stand up to members of the armed forces:
"There are dozens of armed men in the hospital. Am I running a hospital or a battalion?… The armed men will create any problem with you outside the hospital if you refuse them."
.