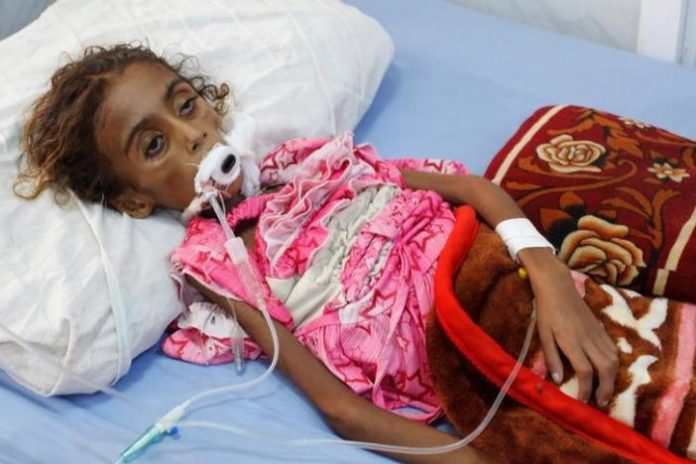 By Abduljabbar Zeyad
HODEIDAH, Yemen, May 3 – Eyes half open and sunken deep into their sockets, little Jamila Ali Abdu already looked half dead for most of her 12-day stay at the malnutrition ward of Yemen's Hodeidah hospital.
Too weak to resist the march of disease and hunger in her war-battered country, the seven-year-old's tiny frame was swathed in a childishly bright green shroud and lowered by sobbing relatives into a dusty grave on Tuesday.
Two years of Saudi-led military coalition war on Yemen  has plunged what was already the Arab world's poorest country into a deep humanitarian crisis.
Public finances for healthcare are in disarray, while roads and bridges for transporting basic goods are bombed-out ruins.
Jamila suffered from worms which doctors in her remote village home were unable to treat, and her family could not afford to transfer her for specialist care in the capital Sanaa.
"Her condition has been deteriorating for the past two years … Every time we went to a hospital they told us she has worms and bacteria. We couldn't get anywhere and we are poor people and can't go to Sana'a or anywhere else," lamented her father Ali just before her death.
Even before the war, villagers on the baking plains, clumped with gnarly palms, on Yemen's Red Sea coast were already struggling to get clean water, feed themselves and obtain medicine.
Now thousands of Saudi-led air strikes and nationwide battles have demolished Yemen's fragile economy and squeezed food supplies.