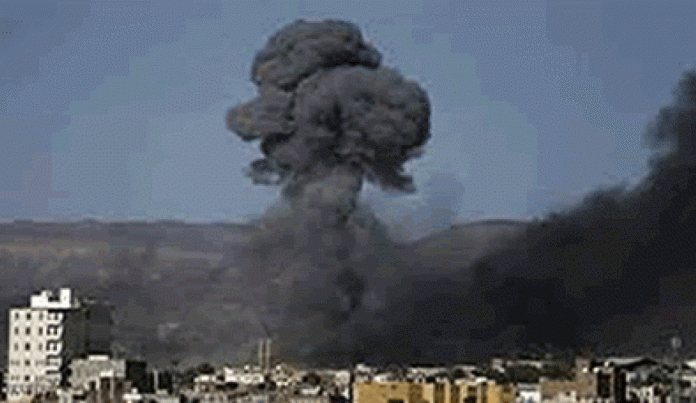 Al-Thawra Net
The Saudi- American aggression air force launched 58 air raids on a number of Yemeni provinces, Asir and Jizan over the past 24 hours, while The Saudi rockets and artillery shelling bombarded several areas in border districts, according to a report combined by Saba News Agency on Monday .
In Sa'ada province, the aggression warplanes waged three raids on Baqim district, raid on area of ​​Takhiyah area and another air raid on Qad area of Razih district.
Moreover, the Saudi-American aggression fighter jet carried out two raids on Al-Malahit area in Al-Zaher Directorate ,  three raids on Farae area and another strikes targeted a citizen's car in Al-Abu Jabarah in Kataf district.
Meanwhile, the Saudi artillery forces shelled several areas in the border districts of Shada and Razih, causing huge damages to the citizens' properties and houses.
In the Capital sana'a , the aggression  air forces launched three raids on Sana'a International Airport, 13 raids on Dailamy  military air base.
In Hajjah province the Saudi-led coalition aggression warplanes conducted eleven air strikes on Harad and Medi districts.
In Hodeidah province, coalition's drone waged two raids on Hays district, while the aggression warplanes launched three raids on a farm in Al-Jarhi area, four raids on another farm in Zabid and another air raid on Hodeidah International Airport.
In Marib province, the aggression fighter jets carried out five airstrikes on Sirwah district.
In Amran province, the Saudi-American aggression warplanes launched Harf Sufyan district.
In Asir , the aggression air forces launched a raid on  Majazah  area , and one air raid on Talaa site in Jizan.