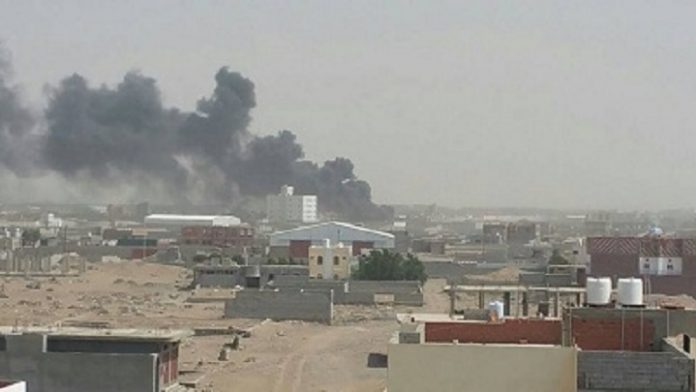 Al- Thawra Net
The Saudi-led coalition and the UAE have stepped up their military escalation in the city of Hodeidah, bypassing the daily shelling of villages and residential neighborhoods, and engage in besieging civilians and preventing them to access fuel for electricity production.
A security source in Hodeidah told the Yemeni Press Agency, that the coalition forces made a major violation of the Stockholm Agreement by carrying out a large infiltration attempt towards the northern part of Aljabalia area in al-Tuhita district
The source also said that the coalition and its mercenaries used heavy and medium military vehicles to try to advance, firing more than 125 artillery shells and using heavy and medium machine gunfire as they tried to advance. However, the Yemeni Armed Forces and Popular Committees repelled the attackers and forced them into retreat.
At the same time, the coalition-backed mercenaries continued to target villages in the Hodeidah countryside as well as residential neighbourhoods, shelling various areas of the city of Hodeidah and northwest of Hays in an attempt to spread fear amongst the population of more than four million people in the region.
In the same context , the coalition led by Saudi Arabia and the UAE has stepped up and tightened their blockade on the city of Hodeidah and its residents, by detaining a cargo ship carrying large quantities of gasoline allocated to the operation of the city's power plants. According to a shipping source, "the Saudi-led aggression has been holding the diesel tanker Maximus since three days."
The source explained to the Yemeni news agency Saba that "the diesel ship has clearance from the United Nations to enter the port of Hodeidah, but the forces of aggression prevented it [from making port]."
"The forces of the aggression are deliberately harassing the people of Hodeidah in order to increase their suffering by detaining the diesel tanker," the source said.
International humanitarian law, international criminal law and the rules of war engagement criminalise the targeting of civilians, service facilities and civilian infrastructure, as well as the threatening of civilian life by preventing access to basic livelihoods, including food, water, medicine, oil derivatives, and other life-sustaining factor