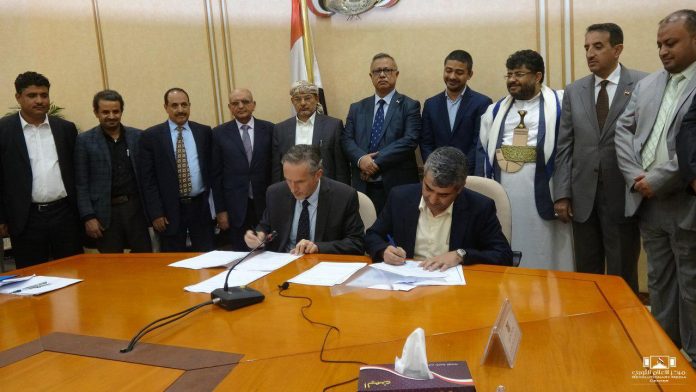 Al- THawra Net
Mohammed Ali al-Houthi, leader of the Supreme Revolutionary Committee, has said that the World Food Program has agree to his proposal, stressing that "the distribution of international aid in cash [will happen] soon" under the agreement signed on Saturday in Sana'a.
"In October 2018, this was our demand: the agreement that was signed today is implemented so that the eligible citizens can cover some of their needs," al-Houthi said, referring to his proposal to convert relief aid into cash assistance.
He confirmed the response of the United Nations and the World Food Programme to the proposal to "distribute relief aid in cash to beneficiaries in order to ensure that it is not damaged during shipping and storage".
"The agreement has been signed with the World Food Programme, and the start of the distribution of cash aid will be launched soon."
On Saturday, in the presence of Mohammed Ali al-Houthi and Prime Minister of Yemen Dr. Abdulaziz Saleh bin Habtoor, sthe WFP and the National Salvation Government signed an annex of procedural and technical arrangements for the cooperation agreement signed between them.
The agreement aimed to carry out a field survey to choose beneficiaries and register them in a biometric data system according to the agreed upon arrangements, in order to ensure the poorest families benefit the most from the food and cash assistance programs provided by the WFP.
The agreed arrangements also stipulated the rules of transparency and accountability in various processes related to the registration of beneficiaries and the delivery of assistance to them.
The newly signed agreement is likely to bring an end to a conflict of interest between the Yemeni government and the WFP. Food aid provided by the humanitarian agency was at several times in the past reported to be rotten or infested with parasites.