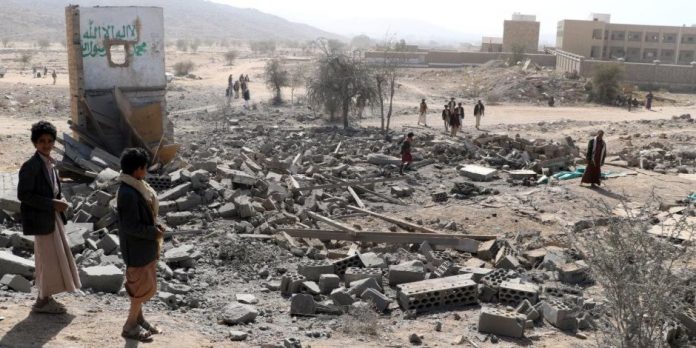 The forces of aggression continued to violate the ceasefire agreement in Hodeidah, which resulted in the injury of a citizen and the destruction of a house, while the aircraft launched 21 raids on several governorates, killing and wounding four citizens in Sa'ada during the past 24 hours.
A security source pointed out that the violations of the forces of aggression amounted to 70 violations, including an attack on the control of 16 km and the flight of a spy plane in the airspace of Al-Jah, 25 breaches with artillery and missile shelling of 103 shells and rockets and 43 breaches with various bullets.
The forces of aggression bombed eight mortar shells separately from the 50th Street, and artillery shells also bombed a house in the same street, wounding one citizen and causing extensive damage to the house.
The source pointed out that the forces of aggression bombed eight mortar shells east of the Adein triangle and north of Hayss, and targeted 23 artillery shells in the mountainous area of ​​Al-Tahita district, as well as artillery and four mortar shells and east of the village of Al-Dafshh at the outskirts of the besieged city of Al-Deruihemi.
The source pointed that the aggression launched a raid on a house in the Ghafra district of Al-Zahir District in Sa'ada Governorate, which resulted in the death of three citizens, the injury of a woman, and the death of a number of livestock.
The warplanes launched two raids on the Al-Zahir district itself, and six raids on the area of ​​al-Baqa.
The source reported that the aggression launched two raids on Bani Hassan area in the Abs district in the Hajjah governorate, and a raid at the Al-Jawf junction in the Directorate of Majzar of the Ma'rib governorate.
The warplanes  launched four raids on the districts of Khub and Al-Sha`f and Al-Matun in the Al-Jawf governorate.
The source pointed out that the warplanes targeted Al-Tala'a area in Najran with five raids.