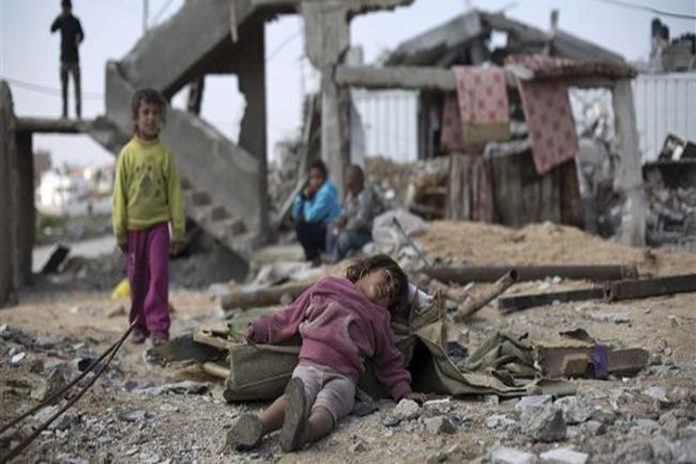 The forces of aggression continued to violate the ceasefire agreement in Al-Hodeidah governorate, at a time when its warplanes launched 36 raids on four governorates and the border areas during the past 24 hours.
A security source pointed out that the forces of aggression committed 102 violations, including the flight of two warplanes in the skies of Hays, five spy planes in the airspace of the 50th Street, Al-Faza and Al-Jabaliya, and 23 violations with artillery shelling of 47 shells and 72 violations of various bullets.
The source pointed out that the warplanes flew in the atmosphere of Hays district, and the aggression forces targeted artillery at one of the commercial hangars in 50th Street.
The forces of aggression also bombarded artillery towards the Al-Waha Hotel and villages on the outskirts of the besieged city of Al-Drihimi .
The source said that the aggression launched two raids on the Al-Muhashmah area of ​​the Khub and Al-Sha`f district in the Al-Jawf governorate, 11 strikes on Salb and al-Jafra in the Majzar district and ten raids on the Sirwah district of Marib governorate.
The aggression warplanes targeted four raids Harad district and two raids Midi district in the Hajjah governorate.
The source stated that a Saudi missile and artillery bombardment targeted populated villages in the border administration of Razih, while the aggression aircraft launched a raid on the Baqim district in Saada governorate.
The source pointed out that the aircraft launched a raid on the Al-Shorfa area in Najran, and five raids on the Majaza area in Assir.
The source strongly condemned the targeting of the aggression coalition and its mercenaries to the homes of citizens in light of the international community's silence regarding the crimes and massacres committed by the brutal aggression in Yemen, which will remain a stigma in the  history of humanity.