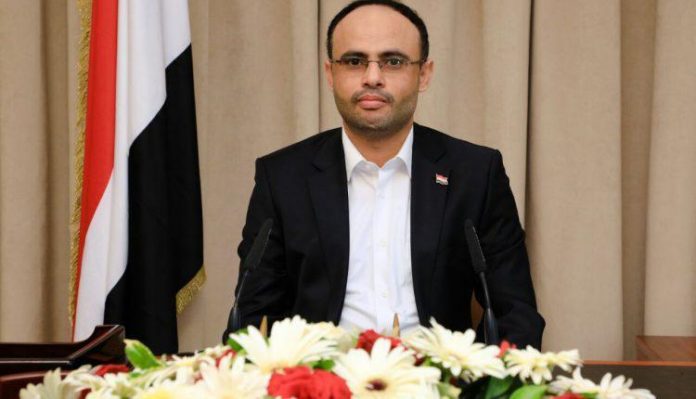 Al-Thawra Net
President of the Supreme Political Council Mahdi al-Mashat has addressed the Yemeni people on the occasion of the 58th anniversary of the September 26 revolution.
The President hailed the Yemeni people, army, and popular committees as well as all the honorable civilians abroad on the occasion of this glorious revolution.
"On this anniversary, today we are approaching the shores of 60 years since the 26th revolution of September, and this number of long years is enough to realize that this revolution has been subjected to early breakthroughs and plots that, with great regret, have been ravaged by all the hopes and aspirations that accompany it", said al-Mashat.
"This number of years has been sufficient and more to put Yemen among the rich, powerful, and developed countries if it had found someone who would preserve this revolution, and work for its goals in accordance with its principles honestly and sincerely," added al-Mashat.
The President blamed corrupt people who obstructed the revolution goals for their own interests and sold the sacrifices of the revolutionaries as well as put political decisions at the hands of foreigners who do not want the well-being for Yemen.
"Those who try to determine the correct path to the principles or independence of the revolution and revolutionaries are being assassinated, and the best example is the martyr al-Hamdi, the martyr al-Sammad", said al-Mashat.
" Whoever tries to correct the course of the revolution and the principles of the revolutionaries is being assassinated, and the best examples were the martyrs al-Hamdi and al-Sammad," al-Mashat said.
The President said "In the era of the revolution, states have been established and developed at a time Yemen continued to be classified among the poorest and most vulnerable countries, even in the time the country enjoyed the state of peace, stability, resources, grants, loans and huge debts and assistance without going ahead with the construction and development, ..just accumulating funds, establishing companies and cities outside Yemen."
Yemen is paying a heavy price for every failure and corruption that have been done in the past years, al-Mashat said, adding the revolution 21 will restore respect for the principles of the September 26 and October 14 revolutions.
"The sacrifices we have been making for six years are proof that we are on the right track and on the path of freedom and independence as well as the restoration of Yemen's decision from the hands of the aggressors or its cheap tools," he added.