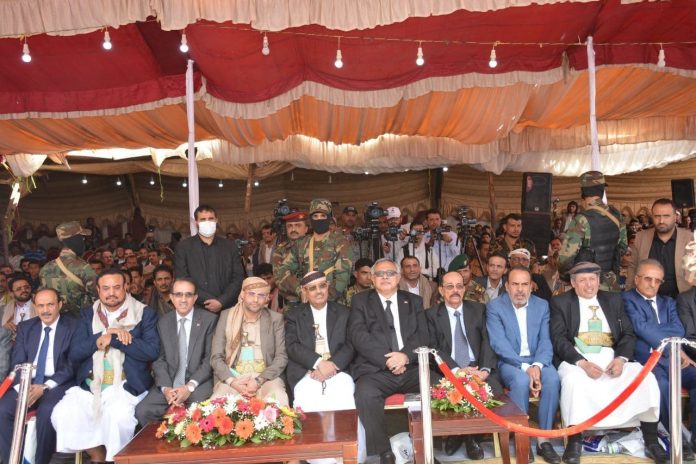 President of the Supreme Political Council, Mahdi Al-Mashat, on Saturday participated in commemorating the fifth anniversary of the Great Hall massacre committed by the US-Saudi-led aggression coalition in the capital Sanaa.
At the memorial event, the Prime Minister, Dr. Abdulaziz bin Habtoor, delivered a speech in which he saluted the participation of President Al-Mashat and all those present in commemorating the anniversary of this massacre, which represented a great tragedy for the country and claimed the lives of more than a thousand people from all provinces of the Republic.
"No one expected our enemies to reach this level of moral decadence by targeting a funeral ceremony in which Al-Rowaishan family was receiving condolences," Dr. bin Habtoor said.
He referred that the Yemeni people have held out for seven years under the leadership of the revolution leader, Sayyed Abdulmalik Badr al-Din al-Houthi, and the Supreme Political Council led by President Mahdi al-Mashat, and members of the Council.
The Prime Minister explained that "the aim of commemorating this anniversary is to remember all the martyrs of the homeland."
Dr. Bin Habtoor pointed out that this anniversary comes in the midst of preparations to celebrate the anniversary of the Prophet's birth – peace be upon him, his family, and companions – and within the Yemeni people's celebrations of the revolution holidays, September 21, September 26, October 14 and November 30.