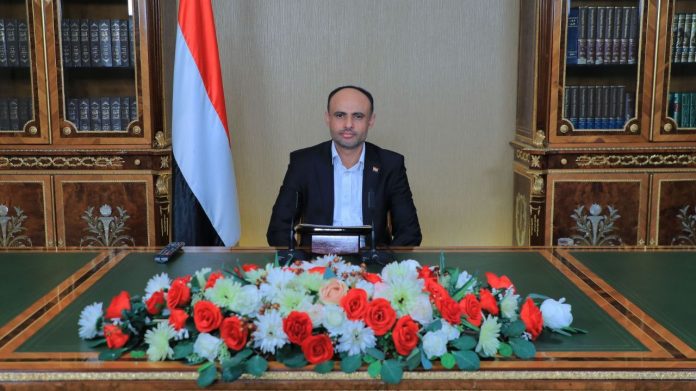 President of the Supreme Political Council, Mahdi al-Mashat, said on Sunday that "unity would never have been achieved by certain people or parties [in the country], but was and will remain the industry of a people that is hard to break, and is an entitlement of the indivisible homeland."
During his speech on the occasion of the 32nd anniversary of Yemeni unification on May 22, President al-Mashat noted that the celebration of the Unity Day does not cancel the harsh realities and external ambitions that have been created, affirming that "the celebration of this occasion means that all conspiracies from abroad to divide and fragment Yemen will continue to fail."
President Mahdi al-Mashat pointed out that the Saudi-led coalition countries and their supporters have formed a "a Council of Shame" without consulting the will of Yemenis, on capitals of countries that kill and besiege the Yemeni people," in reference to the Riyadh-formed Presidential Council.
The president explained that" the members of the Council of Shane were involved in betraying the country and legitimising the aggression against it from its first day, and there was no difference between their position and that of the traitor Hadi."
President al-Mashat continued by saying that "the Yemeni people will not be deceived when they know that there is nothing new but changing faces, and history will not forgive the international community for its bias towards these corrupt people."
President Mahdi al-Mashat stressed that "opposing the aggression is the only available option to preserve the self-respect and the rights and interests of the people in their security and independence."
He stated that what is happening in the occupied territories is "an additional confirmation of the ugliness of the projects of subjugation and dependency, as it is also evidence of the greatness of the project of liberation and independence."
Regarding the extension of the truce, Mahdi al-Mashat, affirmed that Sana'a is not against extending the truce, but cannot accept any truce in which the suffering of the Yemeni people continues.
He said "the citizens did not see a difference between the armistice and the period before the truce, which is not encouraging."
Mahdi al-Mashat called for real and encouraging cooperation that leads to improving humanitarian and economic benefits in any upcoming truce.
He stressed that "it is necessary to discuss more humanitarian and economic solutions as an urgent priority required for alleviating the suffering of the besieged Yemeni people."
In his speech, the President reiterated Yemen's keenness on real and permanent peace, based on ending all aggression, siege, and occupation, as well as on reconstruction and on addressing the effects of the aggressive war.