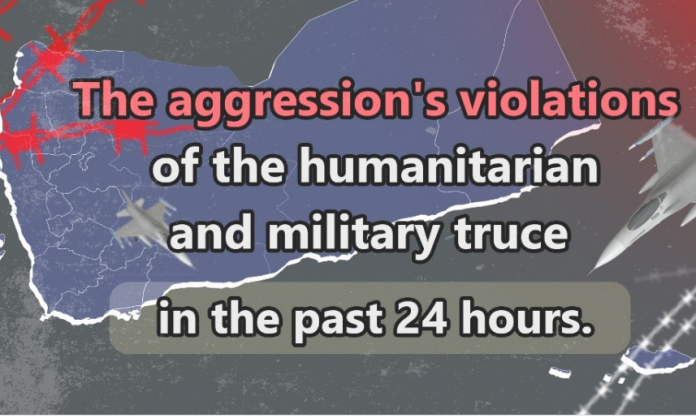 US-Saudi-Emirati aggression coalition mercenaries continued their violations of the humanitarian and military truce in a number of Yemeni governorates during the past hours.
Military sources said that the forces of aggression committed 131 new violations of the armistice, represented by four violations of the airspace of the enemy Apache warplanes over the airspace of Al-Shabaka, Bekaa, Al-Souh and Al-Omda in Najran, and 53 violations by the flight of armed and spying reconnaissance aircraft in the airspace of the governorates of Ma'rib, Hajjah, Al-Jawf, Sa'ada, Dhale ,Al-Bayda and the border fronts.
Three violations of military reinforcements for the mercenaries of the aggression were recorded in Homra and Al-Ahtoub front in Taiz governorate and in eastern Balaq in Ma'rib governorate, in addition to six violations and the creation of fortifications in the vicinity of Ma'rib city and in Hammad Square in Najran and in Al-Dubayr and Al-Amoud in Jizan and also behind Tabbat Al-Alam in Al-Kadha in Taiz governorate.
The sources pointed out that 11 violations were recorded by artillery shelling on the positions of the army and the popular committees in al-Akd and al-Balaq al-Sharqi, in Mala'a in the Ma'rib governorate, and in al-Madaf and al-Malahiz in Sa'ada governorate, and in al-Sabbaya and Wadi Gara in Jizan, and 54 other violations with various bullets fired at citizens' homes and at army and popular committee sites in the aforementioned governorates and on the fronts. the border .