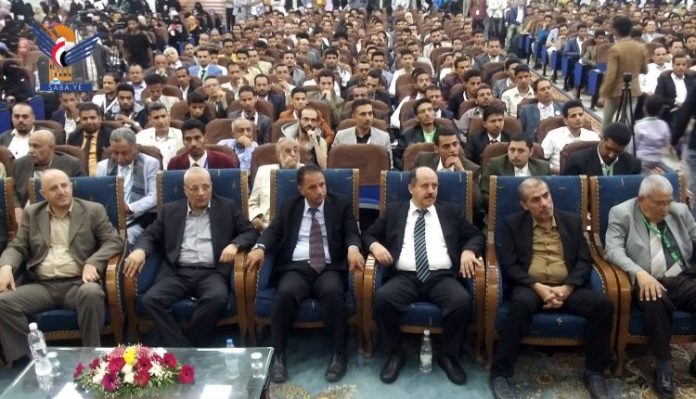 Deputy Prime Minister for National Vision Affairs Mahmoud Al-Junaid inaugurated on Sunday in the capital Sana'a the 2nd conference for the national pharmaceutical industry under the slogan "Made in Yemen" in conjunction with the World Pharmacists Day.
The two-day conference, organized by the Supreme Authority for Medicines and Medical Supplies in cooperation with the Yemeni Federation of Pharmaceutical Producers, the General Investment Authority, the Yemeni Pharmacists Syndicate, and the College of Pharmacy at Sana'a University, with the participation of a group of academics and specialists in various fields of pharmaceutical and medical sciences, and more than 500 researchers from various Yemeni universities, will discuss a number of themes, research and scientific working papers on developing the national pharmaceutical industries, ensuring the quality of the national pharmaceutical industry, and the strategies of the local pharmaceutical industry in accordance with the national vision.
Al-Junaid considered holding the conference one of the most important activities carried out by the Supreme Authority for Medicines within the framework of the state's directions to encourage pharmaceutical industries and replace the local industry and settle it instead of the items that are imported from abroad and their effects on the import bill.
He stressed that the state has great potentials and capabilities, and the private sector, if it finds an appropriate and incubating environment, is able to produce local medicinal brands that compete with the imported ones.
The health sector, especially the pharmaceutical production sector, was one of the most important sectors that ranked first in the plans and programs of the national vision and worked to improve performance and provide medical services to citizens.