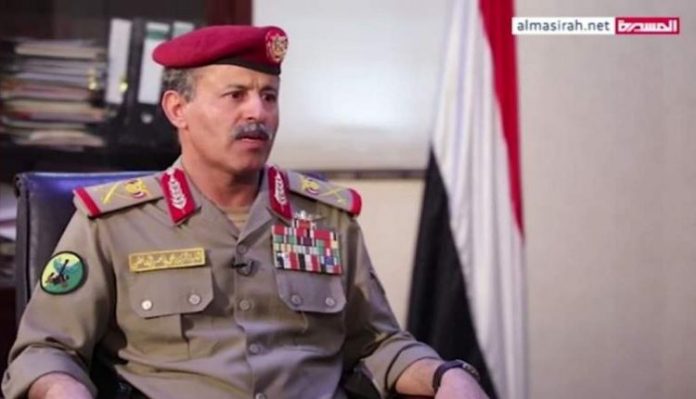 In its regular meeting on Sunday, the Cabinet listened to the report of the Minister of Defence Major General Mohammad Nasser Al-Atifi on the situation on the fronts in light of the continued violations of the Stockholm Agreement by the US-Saudi aggression and mercenaries, especially on the western coast.
The Minister of Defence affirmed that Sana'a adhered to the last agreed truce, and was keen to reduce the level of tension and non-escalation, despite the violations and the aggressors, occupiers and their mercenaries brought more weapons to the occupied provinces, regions and islands.
Al-Atifi pointed out that what they are doing in terms of preparations at all military levels confirms that their resort to the truce was to rearrange their situation to prepare to continue their blatant and wanton aggression against Yemen.
He stressed that the main goal pursued by the US-Saudi aggression is to prolong the war against the Yemeni people to ensure its continued plundering of the national wealth, and the use of Yemeni ports and islands under occupation, to serve its economic interests and political goals.
Major General Al-Atifi stressed that the Yemeni Armed Forces, with their various formations, are fully prepared to continue the battle against the aggressors, in a more painful and powerful way compared to previous years.
The report stated that the Armed Forces have the full ability to deal with and deter any act of aggression in its stronghold. It explained that Sana'a proposes a truce that meets the interests of the Yemeni people, present and in the future, while the aggressors want a truce against the Yemeni people and their right to a decent life.
For its part, the Cabinet saluted the prominent role of the military and security institutions in confronting the aggressors and their plans to destroy the homeland and strike its internal security over the past years, and its readiness to deal with any escalation of the aggressors decisively and deterrently.
It stressed that Sana'a, while it is keen to prepare all factors that serve any sincere approach to establishing a just and honorable peace, is at the same time fully prepared to confront any escalation by the US-Saudi-Emirati aggression.