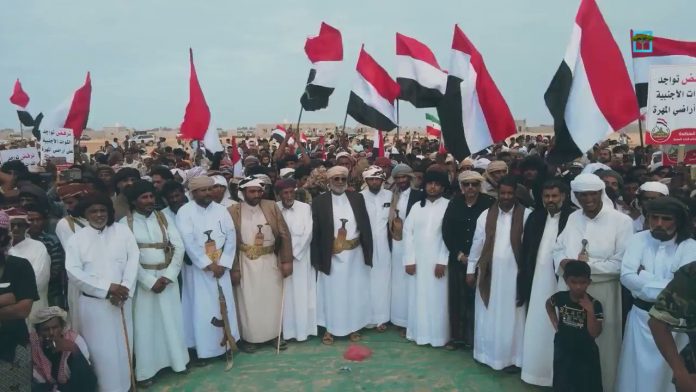 The sit-in committee against the presence of foreign forces in Mahra issued a statement to all Yemenis at home and abroad on the occasion of the 33rd anniversary of the Yemeni Unity Day.
"This anniversary comes upon us as one of the most important achievements of the Yemeni people on the 22nd of May 1990, the committee said in a statement. "The country is passing through a delicate historical stage with the return of the external occupier who targets the cohesion and unity of the Yemeni people."
The statement called on the Yemeni people to celebrate the day of the Yemeni unity, as an embodiment of popular cohesion and great ambition among the people since the defeat of the British occupation of the southern part.
It indicated that the unity does not represent people, an elite, or a political trend, but rather represented all spectrums of the Yemeni people, and its dream of unity and the return of a great Yemen that brings together all its people. All of this will remain more important to the people than the political and economic gains and losses that have accompanied the years of Yemeni unity since its declaration.
"Marking the Yemeni unity comes back to us during a critical historical stage with the return of the old foreign occupation, which is renewed and seeks to target the unity and cohesion of the people of Yemen, and the lawlessness of its land, wealth and capabilities."
The statement continued: "What the foreign occupation had failed to do during the sixties and its exit from the southern part of Yemen, and its dedication to division under separate names is trying to return and pass through the Saudi-Emirati coalition that support its tools to pass its projects and goals."
It affirmed that the sit-in committee revealed the goals and plans drawn up by the occupation to divide Yemen, through the recent steps and support for the militias established by the coalition since the start of its military operations to implement plans and agendas to control the Yemeni coasts and islands.
The statement reaffirmed that the committee will continue to preserve the national sovereignty and achieving the goals, the most important of which is the expulsion of the foreign occupation from Yemeni land, blaming the Yemeni political forces for the consequences of the dangers of the continuation of the status quo, which targets Yemen's land and people.