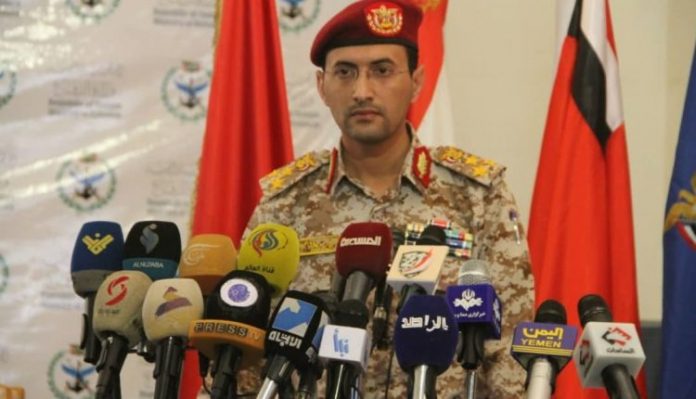 Al- Thawra Net
Yemen's  Armed Forces spokesman Brigadier General Yahya Sare'e on Tuesday revealed details of the large-scale air attack with a squadron of Qasef-2K combat drones that targeted the King Khalid Air Base in Khamis Mushait on Monday evening.
Brigadier Sare'e said that the air attack targeted weapons stores, advanced and modern radars and control rooms of the King Khalid Air Base.
"The monitored targets were hit with high accuracy by a squadron of Qasef-2K combat drones, which can not be discovered by the US radar systems," Saree said, adding that the operation was documented video.
The spokesman of the armed forces pointed out that the King Khalid Air Base is one of the largest military bases of aggression and a platform for implementing its aggressive targets towards Yemeni territory.
"The bank targets expanded day after day," he confirmed.
Brigadier Saree called on the Saudi and UAE regimes to stop the aggression, "otherwise they have to wait for surprises." He called on civilians to stay away from the military and vital targets in Saudi Arabia and the UAE.
The spokesman confirmed the Yemeni Army's ability to carry out more than one operation at the same time, in accordance with the available options and in the specified time.
"Soon, God willing, we will reach to the law that says "an eye for an eye and a tooth for a tooth," airport for airport. What comes after the 9th of Ramadan Operation will not be as before and aggression should count that," Saree added.
On the 9th of Ramadan, seven Yemeni drones launched a major operation against the strategic oil facility in Saudi Arabia in retaliation for the Riyadh regime's devastating military aggression and siege of the country.
Following the attack, Saudi Arabia stopped pumping crude oil on the major pipeline across the country.