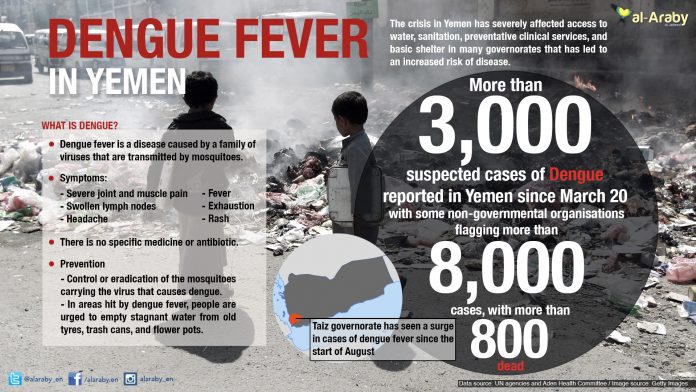 Dozens of citizens died in various governorates of the republic due to the epidemic of dengue fever and malaria from the beginning of last January until the 18 of November.
The Minister of Public Health and Population, Dr. Taha Al-Mutawakkil said during the regular meeting of the cabinet yesterday in Sana'a, that the total cases of suspected dengue fever at the national level during the period from the beginning of January until 18 November 2019 amounted to 36300 cases of suspicion.
Al-Mutawakel pointed out  that Taiz governorate recorded the highest cases of suspected dengue with 5,871 cases by 19.4 percent, followed by Hodeidah governorate with 5,748 cases by 19 percent and Aden governorate with 4,671 suspected cases with 15.4 percent.
He pointed out that the province of Hodeidah recorded the highest number of cases of dengue fever by about 1,000 cases, 44 percent of the total cases infected at the national level, while the number of deaths as of yesterday due to this epidemic 146 deaths.
He called upon the relevant international organizations to intervene urgently in combating the epidemics and to provide the necessary medical assistance to the health sector such as medicines and ambulatory and therapeutic solutions for the infected and suspected patients and to avoid further casualties due to the spread of malaria and dengue fever.
The Council formed a Ministerial Committee headed by Deputy Prime Minister for National Vision Mahmoud Al Junaid and members of the Ministers of Local Administration, Water, Environment, Education, Media, Communication and Information Technology, to oversee the operations related to confronting and combating the causes of the epidemic.