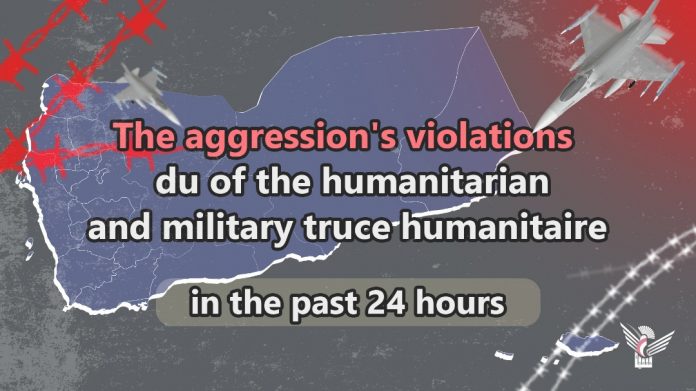 The US-Saudi aggression and its mercenaries committed 82 violations of the UN-sponsored humanitarian and military truce, during the past 24 hours.
According to Saba news agency, a military source explained that the aggression's violations included the flying of 23 spy drones over the governorates of Marib, Taiz, Hajjah, Al-Jawf, Sa'adah, Al-Dhalea, and the border fronts.
The source confirmed that the US-Saudi mercenaries developed new military fortifications in Al-Dhalea governorate.
The source indicated that nine violations were monitored as the US-Saudi mercenaries fired artillery shells on the sites of the Yemeni Army and the Popular Committees, in Ma'rib, Al-Dhalea, Jizan, and Haradh in Hajjah Governorate.
The source stated that the mercenaries committed 49 breaches by firing on the homes of citizens and the sites of the army and the popular committees in the governorates of Ma'rib, Taiz, Hajjah, Saada, Dhalea, and the border frontlines.
The Saudi-led aggression continues to violate the truce by detaining new fuel ships, despite their inspection and obtaining permits from the United Nations, insisting on the closure of Sana'a Airport, as well as, the fires of the aggression side did not subside along the fronts, on the borders and inside. Shelling, reconnaissance, development and crawl, including a failed advance carried out by mercenaries towards Army and Popular Committee sites south of Marib.